This was a real "Community Effort" led by KILA.
Starting with the First Annual KILA Fish Fry on Friday (BIG thanks to Jennifer & Joel) and Frank (of Frank & Dean) for entertaining. Over 100 diners enjoyed the fried perch, sides, and desert prepared by KILA volunteers. It was so well accepted, that we await the 2nd annual Fish Fry.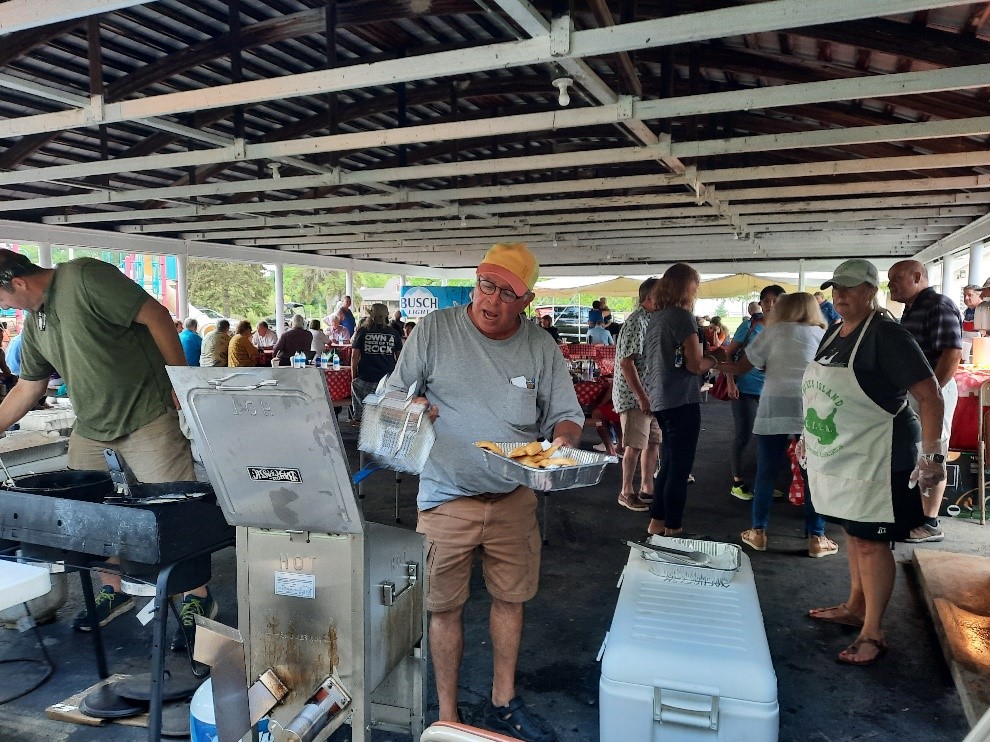 Then on Saturday:
The Parade with lots of "floats", cars, village officials, Parade Marshals Chris Ashley & Jackie Taylor, and the Edison Chargers Marching Band of 75 Middle & High School students. Thanks Tom for organizing a memorable parade and to Lake Erie Shores & Islands (LESI) for a sponsoring grant.
Pie Contest with 14 entries (Thanks Vicki)
Island Singers – National Anthem
The Edison Marching Band concert
Fat City Band who played all afternoon keeping spirits high
Kid's games, Twinkie eating, and Marshmallow golf (thanks Janet)
The Beer Slide (thanks Dave & Leslie)
Bounce Castle (Thanks Jim Z)
Great food (Thanks Jim & crew) & beverages (thanks Frank & crew)
Booths: local organizations & craft vendors (Thanks Eric),
2021 KILA Homecoming prize winners:
Parade:
1st: Jones Reunion
2nd: Ellie Kane-"Treasure Island Day"
3rd: Steve Hanigosky – "Putt Putt"
Pie Contest:
1st: June Campbell
2nd: Morgan Barlage
3rd: Virginia Coyne
Like Grandma's: Kiki Arnold
Most Original: Mandy Barlage
KILA Raffle:
Kelly (Schnittker) Sims: Grand Prize $2500
Shelly Cousino: $1000
Jeremy Grimes: $500
Joe Cordaro: $250
Kevin Brown: $100
KILA Member door prize (Franklin Sanitation septic tank pumpout):
Overall Winners: Everyone who participated in Homecoming
Thanks to the many local businesses and KILA volunteers who made this all happen. And thanks to all who attended Homecoming making this a great success.